Services
Customers We Serve
Special Waste Services provides biohazard waste collection to a variety of facilities in Missouri and Kansas. Here is just a partial list of the biohazard waste customers we serve:
Acupuncturists
Dental Offices
Dialysis Centers
Fire & Police Departments
Funeral Homes
Hospitals
Laboratories
Long Term Care Facilities
Medical Clinics
Nursing Homes
Outpatient Clinics
Paramedics and Ambulance Companies
Plastic Surgeons
Schools
Tattoo Parlors
Urgent Care Facilities
Veterinarians
---
Medical Waste Services
Route Service
Whether you generate a large or small amount of medical waste, we'll collect, transport and securely dispose of your medical waste, then provide a manifest for tracking and a certificate of destruction for your records. Route pickup service is available daily, weekly, monthly, quarterly and annually.
Cost-Effective Compliance Training
Now your staff can become OSHA compliant with our certified on-line training, at a cost that is 30% -50% less than our competitors' programs. We provide Bloodborne Pathogens, HazCom and HIPAA training.
Medical Waste Reduction Program
Most medical waste disposal companies won't help you reduce your medical waste, because more waste from you means more money for them. We can help reduce your medical waste with our three-step Medical Waste Reduction Program. Visit our website for details.
---
Training for Your Staff
All personnel that handle blood, fluids, human tissue and any other potentially infectious materials are required to complete OSHA Compliance Training. However, previously you had to purchase expensive training packages from a national medical waste disposal company in order to satisfy this requirement.
Now you have a choice with our nationally-recognized training programs that can save you 30% - 50%.
Your organization can become OSHA compliant and avoid costly fines with our online safety program. Here's what we have to offer:
HAZCOM, BBP & HIPAA TRAINING
Our on-line, interactive training includes Hazcom, Bloodborne Pathogens, and HIPAA programs. Participants can complete each course in less than an hour. Certificate awarded upon successful course completion.
MSDS/SDS
Simplify your MSDS/SDS management. Search, view, print, store, and organize your Safety Data Sheets for full OSHA/JCAHO compliance.
Online Safety Audits
Identify compliance deficiencies by taking in-depth audits of your facility. Audits Include applicable OSHA regulations.
Online Safety Plans
Create your OSHA required safety plans in less than one hour with our online plan builder which includes, Hazard Communications, Exposure Control, Fire Prevention and Emergency Preparedness.
For more information click here to download our brochure.
ACCESS OUR TRAINING PORTAL
Current customers can access our training portal by logging in at the top of our web pages.
New customers who want access to our training can call (816) 741-7057 or click here
---
Our Supplies
We offer a full line of disposal supplies with Red Bags, boxes and plastic tubs. Plus we carry a large variety of Sharps containers ranging from 1 Quart to 18 Gallon. And just like our services, all our supplies will cost you less than you're paying right now.
Plastic Tubs
Our reusable plastic tubs have been specifically designed for the safe transport of medical waste. They satisfy all state regulations and all federal OSHA requirements as well.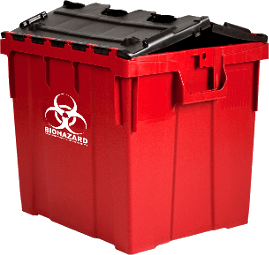 Capacity: 31 Gallon
Size: 25" x 20" x 21.3"
Boxes
For medical facilities that prefer single-use, corrugated boxes over reusable containers, we also offer a 26 gallon box.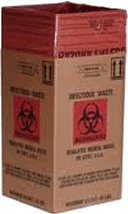 Size: 26 Gallon
Red Bags
Most medical waste disposal companies use "gusseted" red bags that have seams similar to those found on standard trash bags. We use "star-sealed" red bags which are ten times stronger, making them far less likely to leak.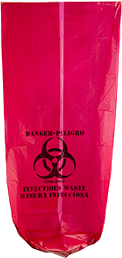 Size: 1.5millimeter
---
Online OSHA Compliance Program
Are you aware that OSHA may fine you up to $7,000 for each non-compliant item on their checklist? Are you current on your MSDS/SDSs, Safety Training, and Safety Plans? Have you conducted your own workplace OSHA audit?
Get in OSHA compliance with our online OSHA Compliance Program, which includes
Safety Data Sheet (MSDS/SDS) management: Access millions of MSDS/SDSs
Safety Plan Builder: Complete all your OSHA required safety plans in minutes
Safety Audits: Are you OSHA compliant? Find out here.
Training: Safety training for your employees, including Bloodborne Pathogens, Hazcom, HIPAA, DoT, Fire Safety, and Electrical Safety
Federal Regulations: Find the answers you need instantly
and more...
Manage OSHA compliance via one powerful web portal.
We help manage your compliance needs with our one-stop online compliance solution. Compatible with your desktop, tablet, or mobile device, you can conveniently manage and protect your business anywhere, anytime.
Call us today at (816) 741-7057 to get yourself in compliance.